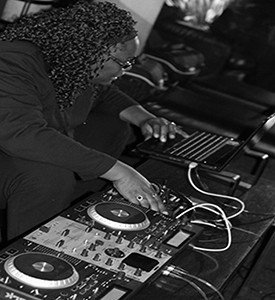 Slamin Fat Beatz was founded by Catherine Matsuura aka DJ Puddee and Saen in 2012. The label and booking agency continues to grow each year. If you would like to know more about our services or think you have what it takes to on the Slamin Fat Beatz roster then please email sales@slaminfatbeatz.com.
Catherine Matsuura aka DJ Puddee
Founder + CEO
Catherine Matsuura aka DJ Puddee is a woman on a mission, she is the owner of SlaminFatbeatz Media & Promotions a multimedia company consisting of radio, magazine, Ustream television and record distribution located in Portland, Oregon. Catherine is also a spoken word artist and a DJ but all these skills did not come overnight. It took years of schooling and training for this entrepreneur. It all began in the eighties for Catherine. She started out as a radio broadcaster at Columbia School of broadcasting in Atlanta, GA. After graduating from school she landed a job in commercial radio.
Five years later she relocated to Seattle, WA where she found the markets to be saturated, but this did not stop Catherine. She decided to start a mobile DJ service and from there she started her own internet radio station, which she has been running since 2006. Still this wasn't enough for Catherine, consumed with imagination, passion and creativity; she set off to school again and took her dream to the next level. She majored in communications with emphasis on Journalism, creative writing and video production. At that time she ventured into new endeavors, she found a fondness for poetry and developed herself as spoken word artist.
With this new art form, Catherine wrote and produced her first album called "Transitions Spun" and Spoken blended with spoken world and her DJ skills. The album inspired her through her trials and tribulations in a dark period of her life. Instead of falling into self-pity Catherine challenged herself to create a poetic collection. The album was written, produced and composed by her, birthing three hits. The Spirit of the Champion, Generation X, and When Love Goes Away available in all major downloads.
Currently Catherine (aka DJ Puddee) is releasing a R&B track called Babee (Remix) Feat Jstring and Da Mind. Her single is listed on her SlaminFatbeatz Music Compilation to be released by late fall or early winter. It has been a journey of self-discovery for Catherine. Last but not least, she created a magazine named SlaminFatbeatz Magazine featuring Indies, History, art, culture and entrepreneurs. Catherine said in a recent interview, had no idea I could do all these things it had to have been on a subconscious level, I mean we all have gifts, abilities and talents but all this came out of my spirit.
Catherine built SlaminFatbeatz and developed her artistry and took a final step in learning how the music industry works by networking with other artists and industry leaders. Four more years of study has taught Catherine the workings of the music industry she has learned how to market, distribute, license, and promote her products through her medium as well as other mediums and to industry contacts. She also works with other Indie artists through artist development and promotions. Catherine wears many hats she says:
I love every minute of it and I would not trade what I do for anything in the world.